Maybe you have skimmed through a few (hundred) posts on how to work with affiliate SEO but you didn't learn anything new. Possibly, none of them told you how to actually do SEO for affiliate marketing.
Well, that is about to change! If you want some practical tips, then you landed on the right website.
In this article, you'll get a practical step-by-step guide on how to implement SEO for your affiliate website. (Screenshots, tools, and everything you need included )
Let's get started!
What is affiliate SEO
SEO for affiliate marketing is about optimising your website's content. All the work you put into affiliate SEO should help your website rank higher, bring in more organic traffic, and ultimately increase your conversions and sales. But affiliate SEO isn't a one-time thing.
It's a continuous process of keyword research: their competitiveness, search volume, relevance and much more. You also need to be aware of any Google algorithm updates.
For example, they made an update to their search spam AI that can categorise your content as spam, lowering your rank and traffic.
An interesting case of search spam is "thin affiliate pages." This happens when your affiliate page is an exact copy of the original merchant's page. So in order to prevent your page from being flagged as spammy, you must add extra value to the viewer.
Why is affiliate SEO important
To make your content visible!
The one thing you can't deny is that SEO for affiliate marketing helps your content become visible. And isn't that the main goal of it? Everyone who has a business wants to be more visible to attract potential customers. But not everyone knows how to do it, and it takes time.
When you get it right though, you'll drive more organic traffic, higher click rate and increased conversions.
The bottom line is, to rank in the top search results:
Your content needs to be visible to Google's search engine
Your audience needs to find it valuable
And how do you do it?
It's a combination of technical SEO research, and diving into your audience insights. We cover both parts in this blog, so be sure to keep on reading.
To stay relevant
Creating relevant content for your audience is tough. Writing about a topic you like and know about is not enough anymore. Maybe people don't care about that topic, or they are simply not searching for it the way you expected. SEO for affiliate marketing can help you stay relevant – finding what keywords people use when they search, how those keywords perform over time, what questions people ask, etc.
To build topical authority
People are curious and suspicious by nature. They don't listen to just anyone, let alone decide to buy from somebody they don't trust. Unless it's something they really need. Like me, when I realised my coffee pot was not made for induction plates. I needed to order a configurator and at that stage, I didn't care who I bought it from. I just needed it. But not everyone is at the same (desperate) buying stage.
If they are, how do you ensure those buyers will buy from you and not from a random website?
One way of making it happen is to have topical authority. Not only does it let people know you're an expert, it also helps Google to see YOU as an expert, so it will rank your content higher for related searches.
How to do SEO for affiliate marketing
To increase the traffic to your affiliate website you'll need to find and optimise your site with keywords.
Makes sense, right? But how do you actually do it?
Besides a couple of handful tools, you need a simple framework you can use for choosing relevant keywords.
Let's explore!
Define parent topics on the niche you want to gain topical authority in
Imagine you decided your niche is SaaS. This term can cover so many topics you'd go insane if you tried to cover it all, so you need to break it down to parental topics by categories, fx.: eLearning, analytics and research tools, email marketing, CRM, web hosting etc.
Let's check the potential of some of those SaaS categories.
Below is the search volume trend over the past 5 years for three priority keywords in your parent topics. What we're looking for here is to see whether the trend curve is increasing or at least steady. From this perspective, all three parent topics are performing well, so you shouldn't worry your traffic will suddenly sink.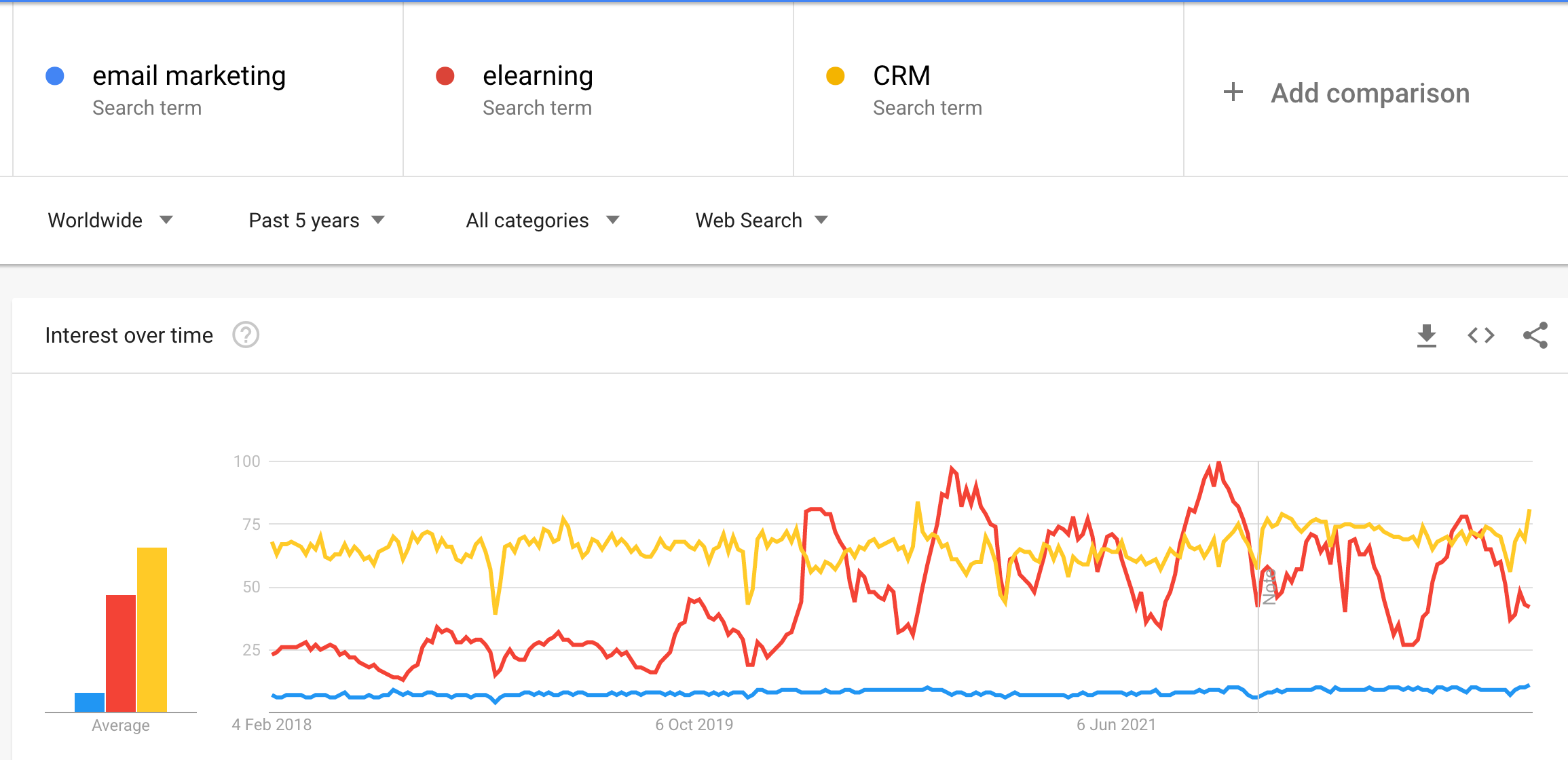 Choose pillars and clusters related to your parent topics
Let's say you chose to focus on email marketing and CRM as your parent topics. Can you define any subtopics you could use as your content pillars and clusters?
With most SaaS products you can't go wrong with creating 'how to', 'guide', 'what is' content for your pillar pages. For example, one of your pillars can be 'A beginners guide to e-mail marketing'.
Within that pillar, you can niche down even further on your clusters: email marketing strategy examples, email marketing templates you can steal for higher conversions, etc.
Use Ubersuggest to search for priority keywords
Ubersuggest is your go-to affiliate SEO tool for domain analysis and keyword research if you're on a tight budget. It lets you make a few keyword searches for free with top results.
The secret here is to find the type of keywords that have relatively high search volume with low difficulty. Be mindful of highly competitive niches, where big brands already built enough authority on the subject.
For example, the keyword 'email marketing' has the highest volume but it's tough to rank for it. When we add to the keyword 'b2b email marketing', it lowers the levels of competitiveness, so you have a fighting chance while remaining at a relatively good volume of searches.

Although Ubersuggest is free it can become annoying to get only a few searches per day. But it's better than nothing. And if you choose to invest, it costs only about 25 Є per month (Feb. 2023).
Use Google Trends to cross-check the volume with search trends. It helps you find if the keyword is high only in some seasons or if it's steadily searched throughout the years.
A great way of using it is to compare similar searches. You'll see which you should prioritise based on its popularity and which term people search only sporadically.
Make the most of search queries
Once you found your selected keywords, search them on Google and scroll to the queries section. Those are the most asked questions about that keyword, according to Google. Choose a few and answer them in your content. Include them in your metadata to give your content a chance to pop up when people search those questions.
Here is a little secret.
If you click to expand on any of the search queries it will add a couple more. A good practice is to find around 20 interesting queries that you can later use in further content pieces.
Answer the public
Answer the public is another free SEO tool. It generates related questions and long tail keywords people search based on the keyword you fill in.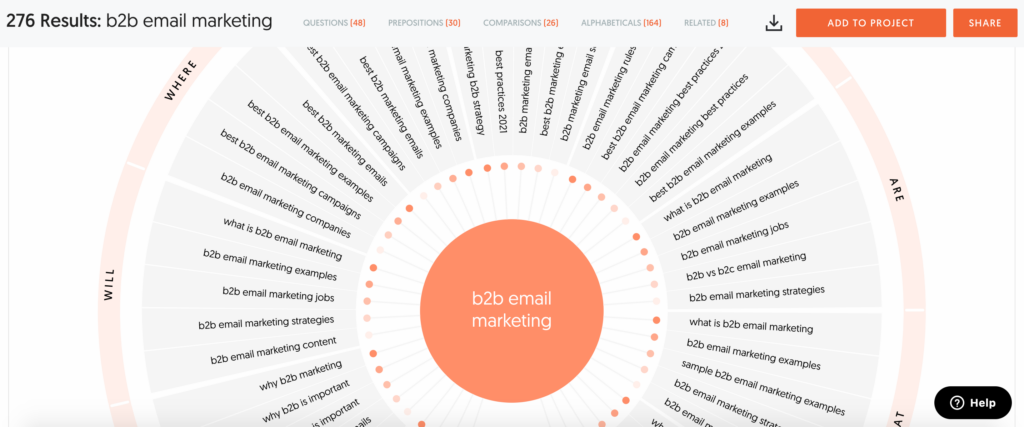 Create great content
After you've done all the keyword research work, you'll have a bunch of ideas about your next topics. To choose your content format, consider the way people like to consume content in your niche.
As an inspiration – popular types of affiliate content are lists of similar tools as a blog, comparison pages, and product reviews.
And keep your content digestible
In the old days, you won the Google dance by stuffing your content with keywords and duplicating it. Those days are long gone. Now, there's much more to Google's process of qualifying your content as valuable. Outside of technical SEO (indexing, site mapping, link building…), people should want to read your content. That starts with a sexy headline, a captivating hook and simple enough formatting.
Build affiliate SEO internal linking structure
You'll save a lot of time by keeping an overview of your content pages. It'll be so much easier to spot what pages have related topics and can be linked to each other.
Imagine you are part of ActiveCampaign's affiliate program. When you type 'b2b email marketing tools' in Google, the following search query appears: 'Is MailChimp good for B2B marketing?'
Based on that, a type of content you can create is a comparison between MailChimp and ActiveCampaign. To boost the ranking of this page you can create an interlink to this page from your older blog.
The overview you end up with can look like this:

Avoid Google search penalties
As in any game, if you try to cheat and get caught, you'll get a penalty. Google penalties usually mean your website drops in rank, and your traffic suddenly sinks. Sometimes it can be unintentional, when you don't realise Google considers a certain practice black hat. Knowing when Google can penalise your website and how to fix it in case it happens can save you a lot of money.
For example, Google shouldn't have issues with affiliate links but…
What if you have a massive amount of them on your website?
Imagine you're an affiliate for selling books and you're creating a big list of the top 50 books for entrepreneurs. Each book introduction would, of course, include at least one affiliate link but you might be tempted to use more. Let's say one in the title and one in the picture of each book.
Now you ended up with 100 affiliate links and Google could decide to penalise you for it.
How can you fix it if it happens?
If your page gets a penalty for having too many links, it means Google believes those links are hurting the viewer experience. In other words, your page doesn't create much value for the viewer and is stuffed with links.
Your options are:
See if it makes sense to keep all your links and remove those that aren't crucial
Add a 'nofollow' tag to your affiliate links
Write more content to increase your content to link ratio
You could reduce the number of books from your list
You could write reviews for each book and use the review link instead of the affiliate. Then use the affiliate link in your reviews.
Make sure all that affiliate SEO work brings you amazing ROI
Since you're in affiliate marketing to earn money you should have an easy way to see where all your revenue comes from. And there are limits to what your affiliate network and Google Analytics can show you.
You need to see where your traffic comes from, and what is the path to conversion. And with every new network, channel and advertiser you add to the equation, the tracking gets less transparent. What do you do?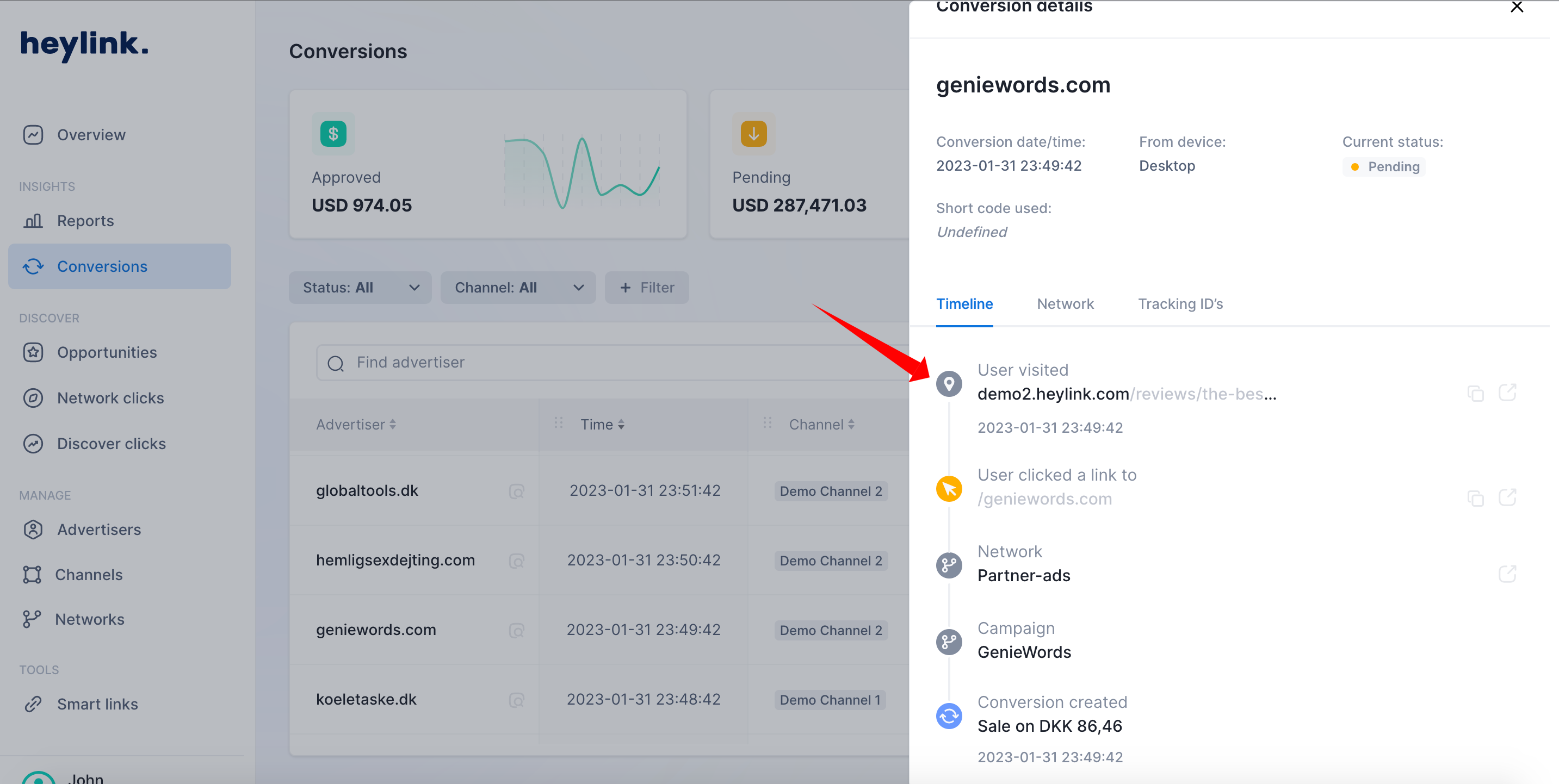 Get a tool where you can see the whole journey visitors take up to conversion. Did we mention you can see it in Heylink for free? Start attributing your conversions to content here →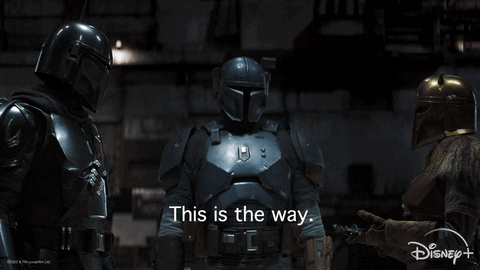 TLDR
What is affiliate SEO?
Affiliate SEO is an ongoing process of optimising your website to rank higher in search results and gaining more organic traffic. And by doing it, you can increase your conversions and sales.
How to do SEO for affiliate marketing?
Define the parent topics you want to become an authority in
Find subtopics and clusters
Focus on priority keywords, search queries and questions your audience has
Create content and link to your other articles
Monitor your ROI