Black Friday is a crazy time for marketers and publishers. Even crazier if you can't lean on any Black Friday stats when crafting your strategy. We dug into our data and found how audiences behave on the day of Black Friday, during the week, and during the month.
The data sets we looked at were: 
Commissions earned
Conversions
Clicks
Pageviews
Here's what we have found.
The impact of Black Friday on Affiliate marketing
Black Friday is THE DISCOUNT time of the year. In a lot of industries, it's the time with the highest sales, highest conversions and, for marketers specially, probably the highest levels of stress.
How about you, the affiliate publisher?
What can you expect to achieve from Black Friday?
And what Black Friday stats can you lean on when crafting a strategy?
After the pandemic, the buying behaviour during Black Friday has changed. Before, the shopping was driven mostly offline, but now Black Friday purchases are done mostly online.
And that buying behaviour shift spiked affiliate commissions.
In 2021 the online sales during Black Friday were at $8,92 billion. In 2022 Adobe Analytics reported a record of $9,12 billion in online sales. That was 2,3% higher than in 2021 and it was the highest record of Black Friday online sales since 2014.
For publishers, Black Friday can look something like this: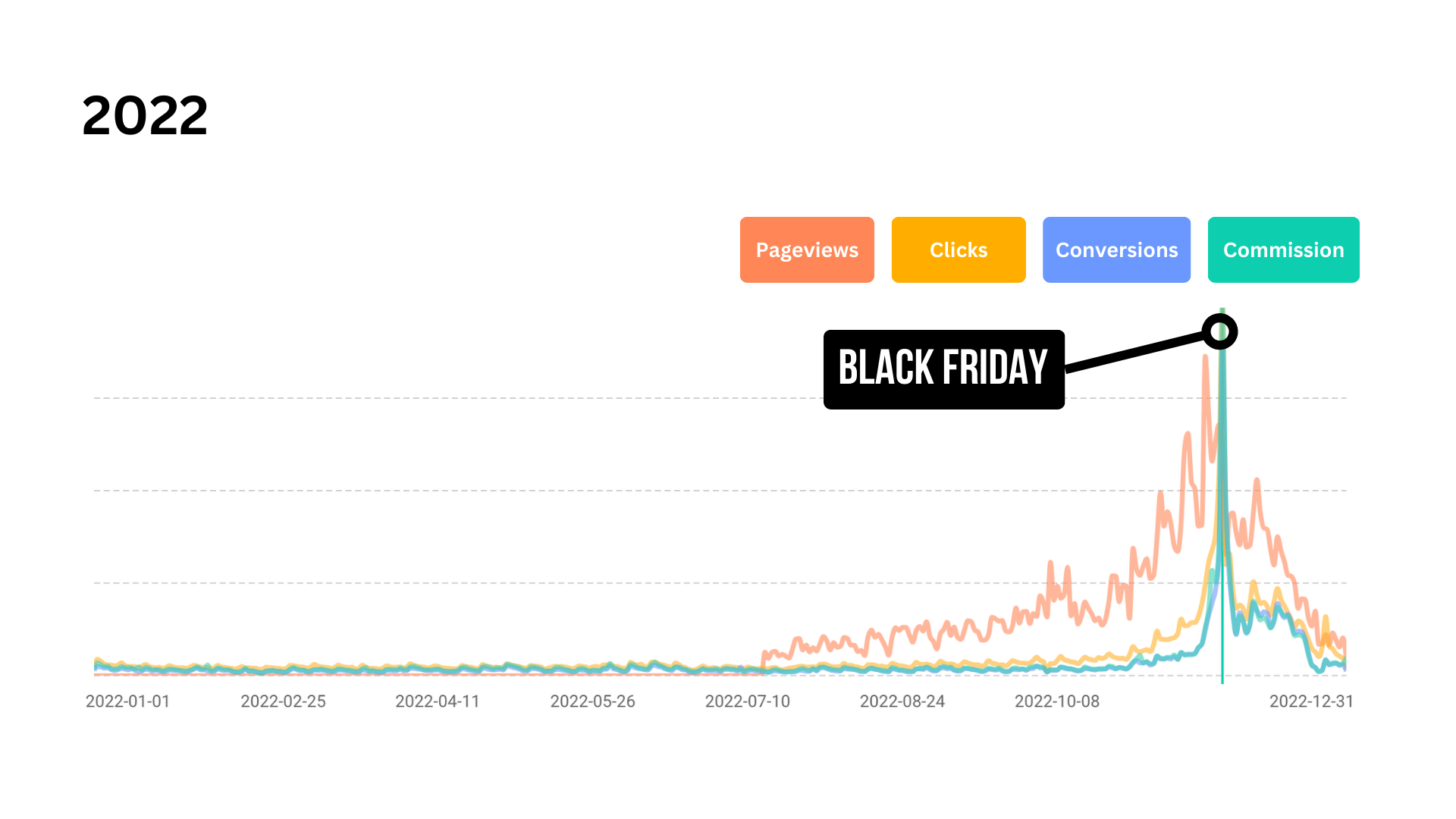 It's almost as if someone pinched the graph in November and pulled it up.
This data are the results from some of the biggest publishers on Heylink's platform. There is no other period throughout the year with as many affiliate commissions earned as during Black Friday.
Let's break these Black Friday stats so we can get a clearer picture of how online shoppers behave.
Black Friday stats you need to know
We divided Black Friday stats into 4 time sections.
The day of Black Friday
Week of Black Friday
Week before and after Black Friday
Month (November 2022)
Black Friday stats during THE DAY of Black Friday!
The day of Black Friday is the best time to boost your EPC (Earnings Per Click) so you can make the most out of every click. And during Black Friday the EPC was higher than during the whole week. (Or even the whole of November. 🤫)
Black Friday, in a single day, generated 22,76% of November's commissions. That's almost a quarter of the whole month's sales.
So how did buyers behave during the day?
Buyers started clicking on affiliate links since 5 am with the highest number of clicks in the evening around 7 pm.
Conversions and commissions had nearly identical path to clicks with two high performing time spots, one at lunch time around 12 pm and another in the evening around 8 pm.
Pageviews picked up the slack later in the morning. The highest number of pageviews were at 9 am. Then they slowly decreased throughout the day.
This means most people found their deals before Black Friday and they went straight for them during the day.

Top tip: The optimisation you're looking for is to push for the best-selling products and bring them on top of your page to increase the sales even more. This is the time to earn as many commissions as you can.
Black Friday stats during the week of Black Friday
The day of Black Friday generated 35% of the commissions for that whole week. That means the remaining 65% were spread out during the week. The two surrounding days – Thursday and Saturday – seemed to capture a bit more than the remaining days, so your campaign managers need to be sharp for at least those 3 days.
The week of Black Friday generated 64% of November's commissions.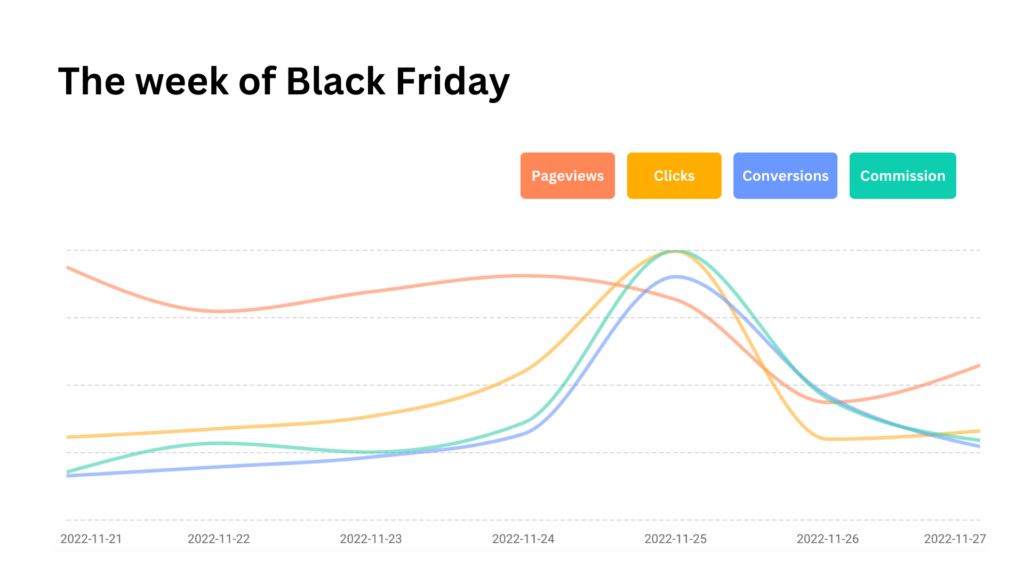 Black Friday stats a week before and after the Black Friday
One week before Black Friday the trend curves for pageviews, clicks, conversions and commissions go from stable to slowly lifting up by the end of the week. But there are no noticeable fluctuations.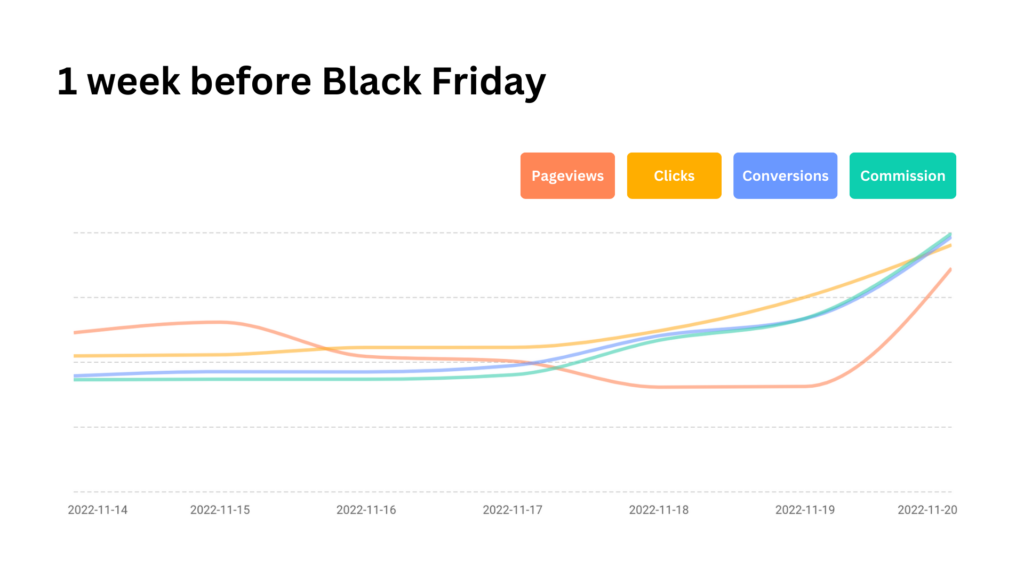 The week of Black Friday hypes up your traffic and conversions which impacts the following week.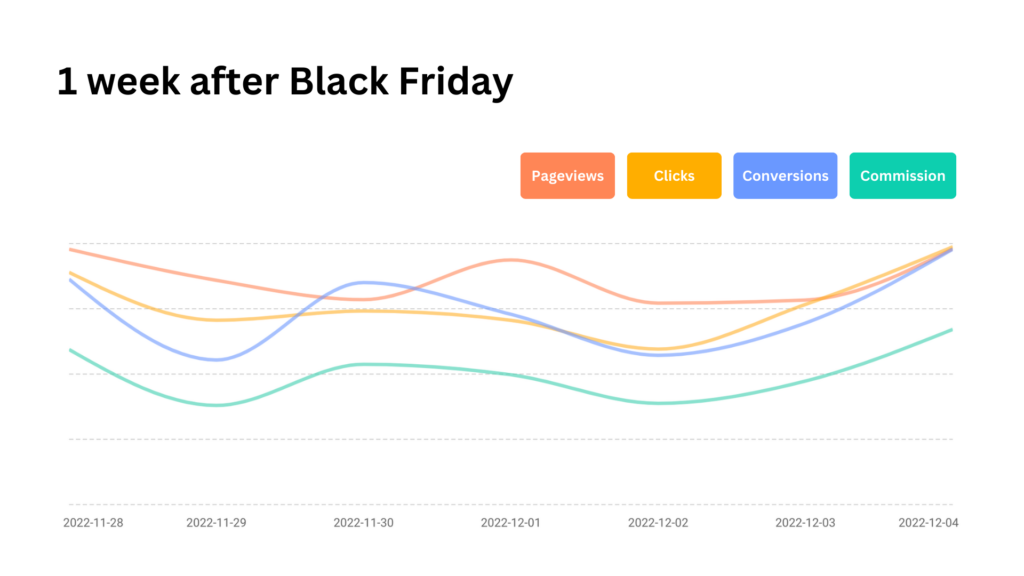 The only metric where the week before outperformed the week after is in pageviews, which suggests that people start hunting for good deals before. The Black Friday stats for the week after show a higher number of clicks, conversions and commissions.
The conversion rate for the week after is almost the same as the week of Black Friday. The week of Black Friday had a 4,54% conversion rate and the week after had a 4,32%.
So the week after is still time for you to generate extra earnings before the commission curve flattens down.
Black Friday stats for November 2022
November alone generated 34% of the 2022 earnings. (Not even Christmas sales got close to Black Friday earnings)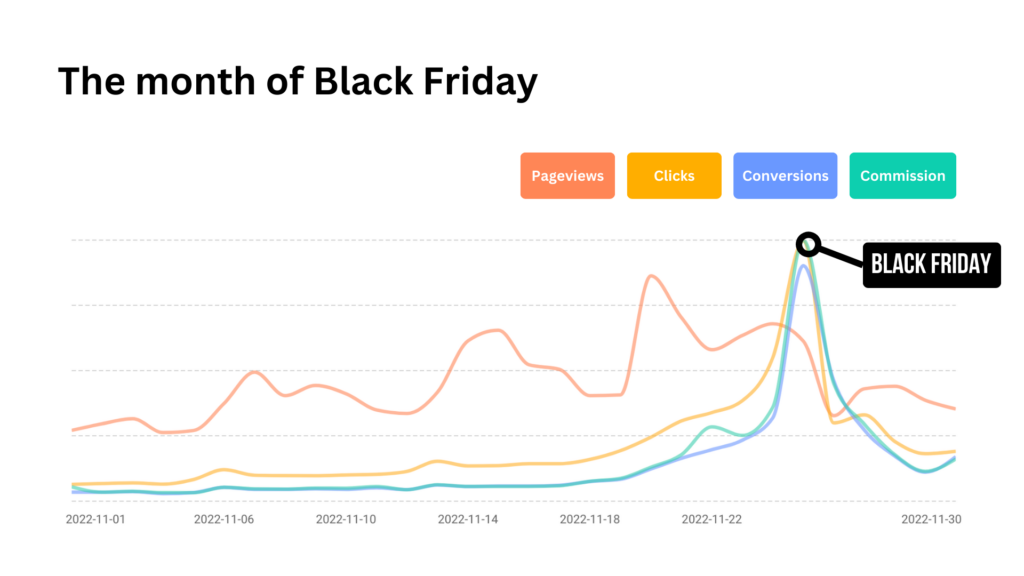 Pageviews stats jumped up and down in the first half of the month and by the end of the week, before Black Friday, they rose up in a steep curve. This means that people search for good deals from the beginning of the month, but the most activity in terms of page views was by far around the beginning of Black Friday week.
Clicks, conversions and commissions remain stable, taking off only during Black Friday, with some smaller activity starting 2 days before.
How should you use those Black Friday stats
To make the best use of those Black Friday stats we need to apply them to the same time periods – before, during, and after Black Friday.
Before: "It's all about the prep work"
Driving massive amounts of Black Friday sales comes with a solid plan on 4 vital fronts.
Find good Black Friday offers
Looking for good affiliate offers is an everyday hustle for publishers. But you need to double your efforts for Black Friday. There will be some offers only active for a short period of time so you need to test them on a variety of traffic sources and spin them with different content types.
Test your commerce content types
Test different content types like: shoppable product reviews, gift guides, or comparison pages. The smart way of choosing a content type is to consider repurposing and recycling the content you want to create that has the highest conversion rate. For example, BuzzFeed recycled their shoppable product reviews in a variety of their gift guides. Check out how BuzzFeed and WireCutter use commerce content types here.
Optimise your content for Black Friday offers
One of the best ways to accelerate your Black Friday sales is to create special offer landing pages. They should be live by the end of October if you want to accelerate your Black Friday sales.
It will give you enough opportunities to create FOMO around your offers. Add countdowns until the sale starts and give your visitors a sneak peek at what deals you'll offer. On your countdown pages, you can prompt your visitors to subscribe to your newsletter. To provide them value in exchange for subscribing, they'll be immediately notified when the shopping madness starts.

Check out this guide on how to optimise your Black Friday landing pages.
Find your traffic sources
Dive into your historical data and see what traffic sources have the best conversion rate. But don't zoom in on only on one source. You need multiple channels, and for the love of dog, don't neglect your paid channels.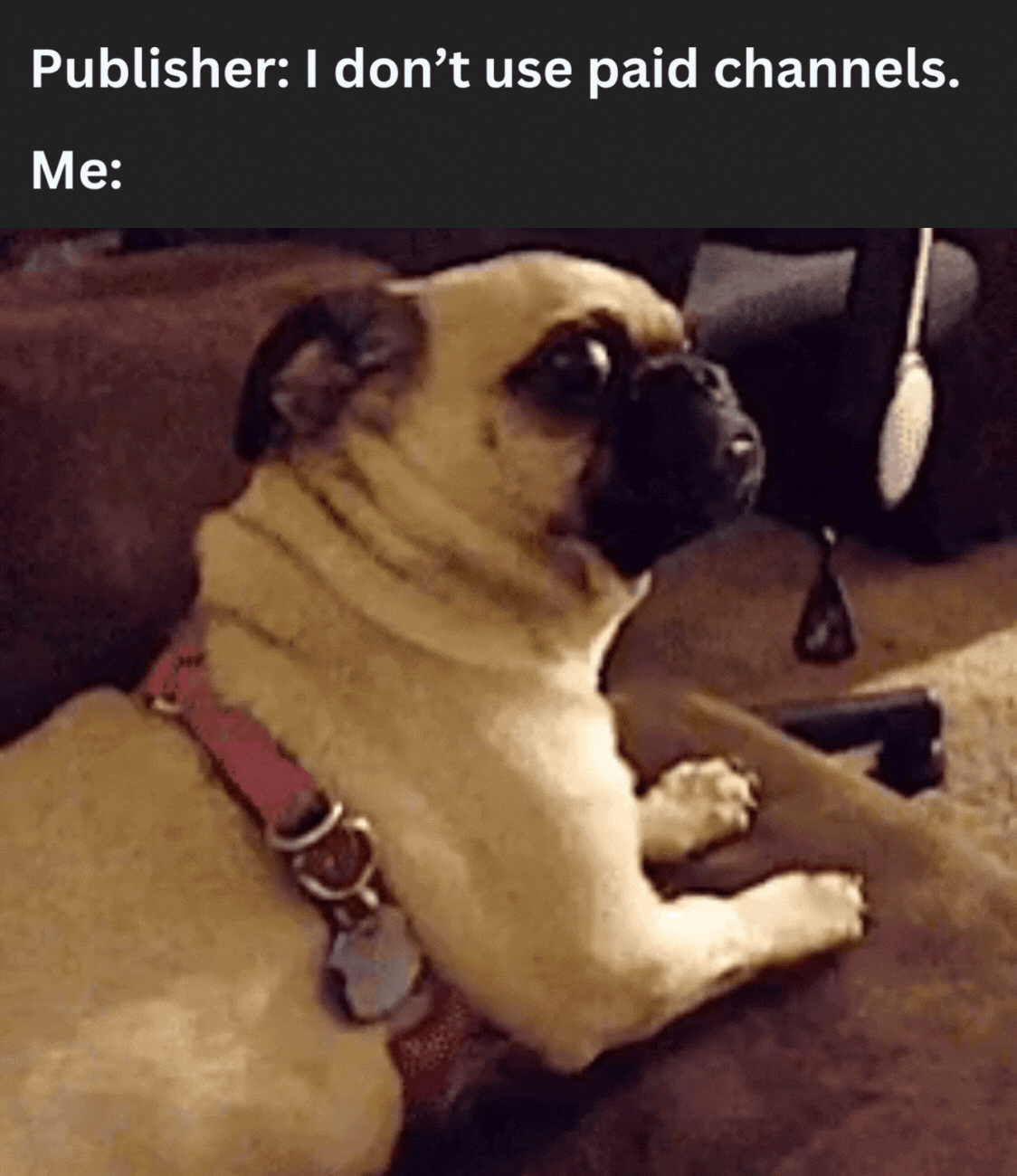 Especially during Black Friday, paid channels can generate results much faster than organic. To boost your affiliate sales with actionable strategies listen to this webinar episode. You'll learn how to go from $0 affiliate revenue to $1.5 million.
During Black Friday
This is the time to monitor your performance in real time. To bring your sales to the top you need to know what products and pages are selling the most so you can push them even more. Link to the best performing offer landing page on your home page, feature it as the top article and push that deal on your paid channels even more.
During Black Friday, you can boost your sales by running:
Push ads
Burst ads
Dynamic ads
Targeted campaigns
After the Black Friday
It's not over 'til it's over.
Just a few days after Black Friday comes Cyber Monday. Plus a few advertisers offer good deals even when Black Friday is over, so make sure to capitalise on that for at least the following week.
Then it's time to review your data. Besides checking your ROI, analyse the type of content and traffic sources that brought you the highest earnings. Identifying them will help you scale your affiliate revenue the fastest.
On the final note, review the leads you collected. Plan on how you can retarget all your subscribers and customers who opted in for your marketing material.