Figuring out how to make money on Black Friday is no joke. For affiliate publishers that means it's time to start preparing to reap the benefits of one of the most profitable times of the year.
To put a number on it, Black Friday can generate 33,90% of your yearly revenue. All in a single month. That's the trend we noticed when we looked into our data.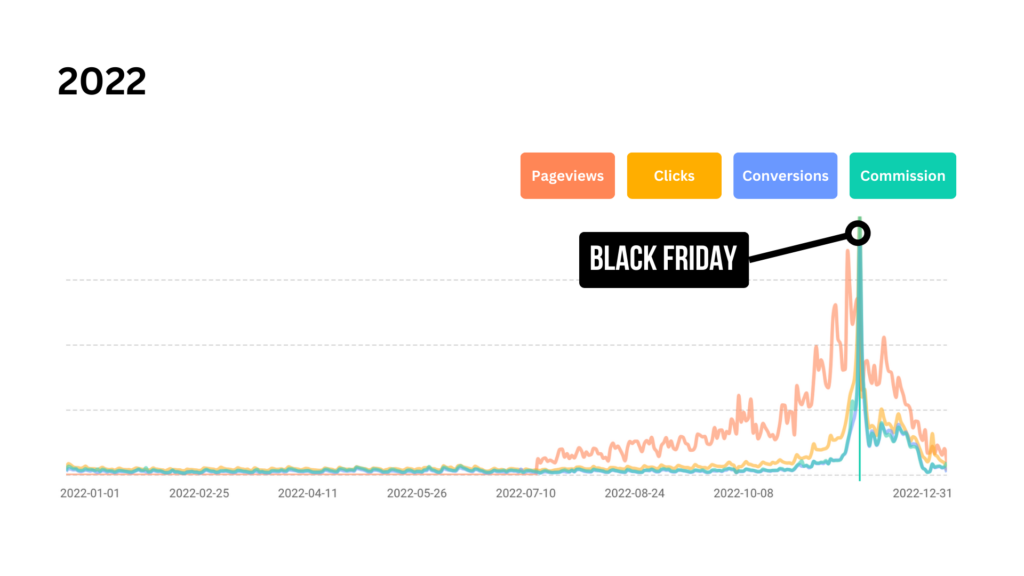 So how can you make money during Black Friday?
We'll explore that in this article.
Why Black Friday is important for affiliate publishers
It's a numbers game! Drive Research reports that 69% of people shop online, while only 32% will shop in person during the time leading to Black Friday, that in itself already shows a great opportunity for affiliate publishers.
But let's dive deeper into the numbers.
In 2022, Black Friday online retail sales reached USD $17.2 billion in the US, and affiliate marketing accounts for 16% of all eCommerce orders.
USD $17.2 billion x 16% = USD $2.7 billion in sales generated through affiliate marketing. 
Now let's say the average commission is 10%.
USD $2.7 billion x 10% =
That's USD $270 mil in revenue for affiliate marketers on Black Friday. 
And I bet you want a piece of that cake!
How to make money on Black Friday
One of the best ways to drive traffic and conversions on Black Friday is by having killer landing pages. 
With that in mind, we spoke to Nitin Sethi, founder of TheLandersClub, and got his top tips on building high-converting Black Friday landing pages.
1) Make sure the landing page is fast-loading and mobile-friendly
Over 70% of traffic over the internet is mobile traffic and you don't want to miss the chance to lose that audience just because your landing page loads too slowly or is not mobile-friendly.
2) Eliminate unnecessary words from your page and have a clear CTA
Traffic around Black Friday is expensive and you don't want to waste your dollars on confusing customers by having a poor call to action. Make your CTAs short and sweet.
3) Learn from what others did in the past
Use ad-spy tools and check out landing pages from other affiliates who ran the same offer the last few years on the same day.
4) Optimise your landing pages to align with Black Friday & Cyber Monday keywords
During the period leading to Black Friday, consumers are actively searching for good deals, and they use specific keywords.
Looking into data we saw the page views increasing at the beginning of November with the peak on the weekend before Black Friday. This means people are in discovery mode for good deals. Then the page views drop and instead there is a massive increase in clicks and conversions.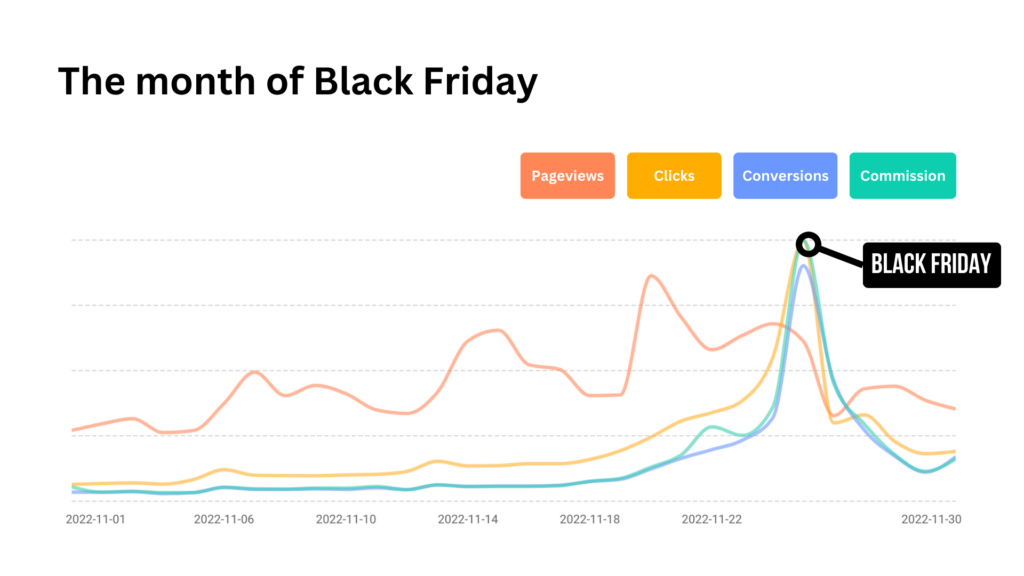 The day of Black Friday is more about optimising for clicks and conversions than it is for page views.
So make the most of your keywords and have your landing pages ready at least one month before Black Friday.
For example, you can create a landing page for 'best Black Friday/Cyber Monday deals and discounts on [enter your niche]'. 
If you're curious about how this keyword research can look, check our blog on three keyword research methods.
5) Black Friday offers won't be around forever
Use that in your favour. The FOMO is real, it's what psychologists call 'scarcity principle'. If there's the perception that something is limited, people are more enticed by it. 
That means you should apply a little pressure on your audience to buy these products now – if they wait, the deal will be gone. Create a sense of high urgency with Black Friday headlines and catchy slogans – use countdown timer, 1-day deals, 1-hour deals, to show your audience how long they have left to make a purchase.
6) Time is money
Driving maximum revenue during Black Friday requires monitoring the audience behaviour in real time. As you saw, the actual day of Black Friday is the most important and if you want to earn as much as possible, you need to know what performs in the time of sending your traffic to a merchant's site.
Practically speaking, if you see a specific item drives a lot of conversions you may want to feature that item on your front page or put it on the top of your listicle.
Have you tried any of those tips? Got another tip to share?
Big thanks to our guest, Nitin Sethi. Nitin is the founder of TheLandersClub, a top rated landing pages, rip-clean, psd to html/wordpress, safe sites and custom lead-gen form setup service for affiliates and media-buyers.