Commerce content has become an important revenue stream for publishing companies who want to diversify their revenue streams. In fact, 81% of media publishers consider commerce content as a vital part of their revenue growth strategy in 2023.
Let's find out how commerce content works and what you can learn from leading publishing companies like BuzzFeed, Wirecutter, and Vox Media.
What is commerce content?
It's editorial content with the main purpose of driving sales for advertisers while providing a smooth shopping experience for your readers.
Most used types of commerce content are product reviews, comparison guides, gift guides, listicles, and roundups.
To make sure your commerce content provides value and a one of a kind shopping journey to your readers you need to uphold your editorial tone of voice and quality standards.
How does commerce content work?
Publishers monetise commerce content through affiliate links. When readers click on an affiliate link, the link is tagged with a tracking parameter that follows them throughout their conversion journey.
When a reader clicks on an affiliate link and completes the conversion, the publisher gets a commission cut from the sale. Commissions attributed to publishers typically range between 1% – 10% (or more) of a sales price. To negotiate commission rates and make their affiliate growth more predictable, publishers can build direct partnerships with brands to make their affiliate revenue growth predictable.
However, don't overdo it with affiliate links. Your commerce content needs to provide value to your readers. Instead of stuffing your commerce content with affiliate links, you must find the right balance of valuable insights-to-links ratio. Check Google's product review standards to be on the safer side.
Examples of commerce content from leading publishing companies
Here are the types of commerce content BuzzFeed and Wirecutter use to drive their affiliate revenue growth:
BuzzFeed's commerce content types
Buzzfeed and its portfolio (Tasty, HuffPost, etc) generated over $600 million in attributable transactions for their advertisers in 2021 through 'commerce revenue' which consists primarily of affiliate commissions.
In Q4 2022, Buzzfeed's commerce revenue skyrocketed by 76% compared to the same quarter in 2021. Meanwhile, their main revenue sources, Advertising and Content, declined by 27% and 9% respectively. Here is BuzzFeed's financial report if you want to take a look.
BuzzFeed uses shoppable product reviews and gift guides in their commerce content strategy.
1 Shoppable product reviews
The purpose of shoppable product reviews is that the reader takes the immediate action of buying a product you write about. It has a shorter product description, and in BuzzFeed's example, uses the 'voice of the customer' to speak directly to potential buyers in their own language.
To shoppable product review template, BuzzFeed uses include:
Headline
Image
User review
Affiliate links
Notice the amount and locations of affiliate links. Their strategic locations are one in the headline, one in the review, and the last one at the end, compelling the reader to take action. One link highlights the product itself, the other a real user, and the last one is the price. All three links lead to the same landing page and they're integrated through the same affiliate network.
This way BuzzFeed ensures their readers can see the product, a review written by a human being (increasing trustworthiness), and the price. Sometimes they include one more link in the review itself when there is a noteworthy product feature. Rarely do they use 4+ affiliate links.
2 Gift guides
Gift Guides are heavily impacted by shopping seasons. BuzzFeed does it really smartly, as they use their shoppable reviews and reorganise them to fit into gift shopping lists. Relying only on gift guides in your commerce content strategy can be unpredictable. You can drive a lot of conversions in peak seasons (like Black Friday) and have crickets in off season.
Even fun spins are mostly profitable with seasonal discounts – 31 Practical Presents To Gift To Yourself Because You're Responsible, Damnit. (I know you want to click it)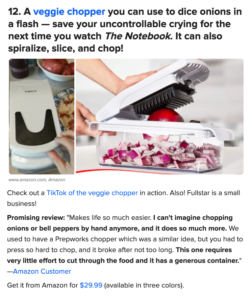 BuzzFeed uses the same structure for gift guides as they use for shoppable reviews including non-affiliate links too. Here they linked to a TikTok influencer with a big enough following which supports the notion that gift guides have a high potential of going viral on social media.
Lesson to learn from BuzzFeed
The effective side of BuzzFeed's shoppable reviews and gift guides is that they use the same template. They don't spend time crafting different structures for these two types of content. Instead, they found what works best for their audience and reuse it as many times as it makes sense.
If you search on BuzzFeed's website for "veggie chopper", you'll quickly find out how often they reuse the same content in a lot of their articles. The main difference is usually the price or headline.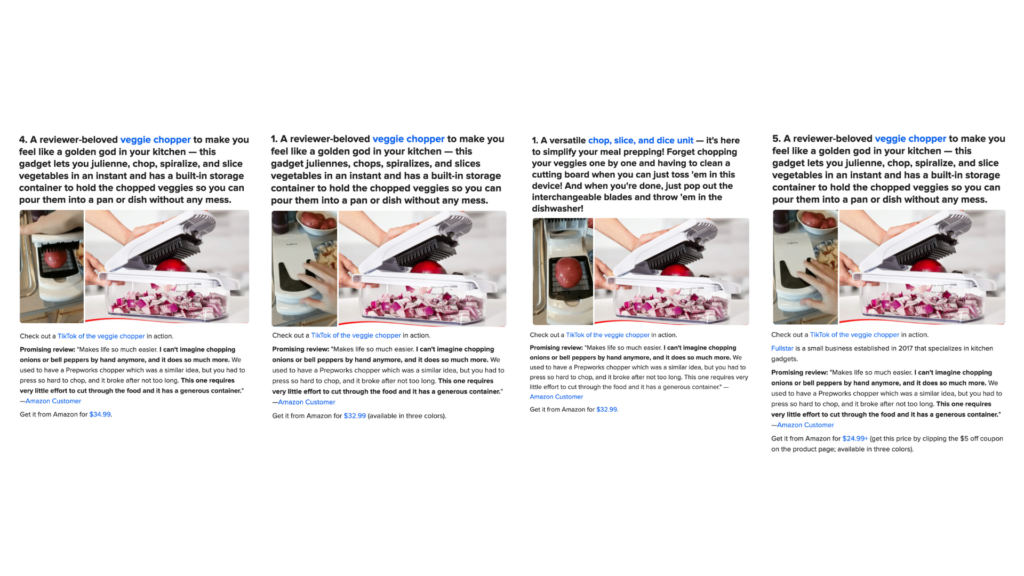 A lesson to learn from BuzzFeed – find out the template that works best for your readers and repurpose it for different content types.
Wirecutter's commerce content types
Wirecutter's success strategy involves investing in audience development and attracting buyers in different stages of the buying journey. Relying less on search traffic and more on building its brand and engaging with its audience, Wirecutter had a 20% increase in affiliate revenue during Q4 2022.
Since 2012, the year when The New York Times acquired Wirecutter, TNYT generated over $20 million in affiliate earnings every year.
Not only do they have the backing up of a massive publisher, the consistent quality Wirecutter provides to their readers opened another incremental revenue stream for them – paid subscriptions.
1 In-depth product reviews
Compared to shoppable product reviews, the primary goal of in-depth product reviews is to give their readers informative and unbiased insights. We talk about reviews with 20k or more words.
This detailed, expert-driven review process has earned them enough trust that people are more than willing to pay subscription fees to access more of their content. That's how much folks value their opinions and recommendations!
The structure:
Inform readers what to consider (price, special feature, warranty…)
The top choices, divided into product descriptions (usually 3 – 4 top picks)
Affiliate links (example below has 6 links)
Methodology: how they picked and how they tested reviewed products
Comparison (they combine product reviews with comparisons for more insights)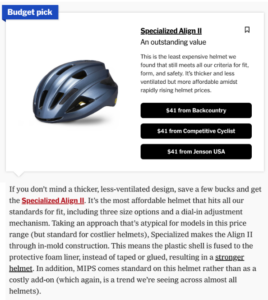 They embed affiliate links in the product headline, image, merchant buttons, and in the product description. Outside of the product description section, their affiliate links are marked red.
2 Comparison guides
Comparison guides remain relevant for a longer time, driving consistent traffic and revenue. They are all about simplifying the buying process, presenting clear distinctions between featured products (they are also great for SEO).
Wirecutter's comparison guides are merged with their in-depth reviews. Depending on the complexity of the product, they show them either in a side-by-side table (treadmills with a bunch of features) or a descriptive text, for simple products like bike helmets.
Lesson to learn from Wirecutter
Combine commerce content types where it makes sense so your readers get a full picture of the products you're writing about. Be transparent and detailed in your reviews and your readers might start paying extra money to subscribe.
How can you integrate commerce content into your editorial strategy?
Commerce content is about incorporating product and service recommendations into your editorial workflow, without making it the central focus of every piece of content you create.
Vox Media carefully considered their audience segments when integrating commerce content into their editorial strategy. The strategy? Commercial newsletter expansion.
The first thing they looked into was whether or not their audience had an interest in seeing commerce content.
Vox Media checked their brands that have experience in e-commerce and analysed data sets for:
Product categories
Preferred retailers
Price ranges
Audience interests
To get the best results they had to consider the audience size in different newsletter lists and the level of engagement. Vox Media planned to avoid overexposing the same audience, leaving out lists where the audience doesn't have the intent to buy. They excluded newsletters for titles like NowThis and Vox.com because the intent is purely to follow the current news and expert opinions.
Key takeaways
Commerce content provides a seamless shopping experience for readers while driving revenue for your publishing company. Using different commerce content types like product reviews, comparison guides, gift guides, listicles, and roundups, you can cater to diverse reader preferences and target specific audiences during peak seasons.
BuzzFeed's success lies in their strategic use of shoppable product reviews and gift guides, while Wirecutter excels in delivering in-depth product reviews and comparison guides. Both companies understand the importance of maintaining a consistent template that resonates with their audience, allowing for easy repurposing.
Vox Media's approach integrating commerce content into their editorial strategy shows you can use different distribution channels. Carefully considering audience segments and engagement levels, Vox Media managed to avoid overexposure and deliver relevant commerce content to the right audience.
Crafting a commerce content strategy requires you to have strong data tracking foundations to make the most effective decisions.
Learn how Heylink can help you scale your affiliate tracking to drive predictable revenue growth.