Tracking your affiliate links is the cornerstone of earning affiliate commissions. Without precise tracking, you risk losing out on rightfully earned commissions, and missing opportunities to grow your affiliate portfolio. Knowing what affiliate marketing tracking methods are out there can help you avoid missing out on commissions.
So when you create killer content but the data doesn't reflect your efforts. Is it because it flopped? Or is the tracking a bit off?
Let's find out how to track a link to a conversion.
How does affiliate marketing tracking work
Everything starts with a click on your affiliate link. Without the CLICK there is neither a unique clickID, traceable user, nor attributed commissions.
Once a user clicks on your affiliate link, the user gets a unique URL parameter attached to their URL thanks to which affiliate networks and advertisers know the user came from you.
Unfortunately, tracking conversions is getting harder and harder with each passing year.
Some of the tracking challenges we saw in 2022 are:
GDPR and ePrivacy got stricter
Privacy-first concepts that anonymise or disable tracking.
Complexity of integration, often requiring multiple tracking and attribution methods: tools/pixels/postbacks, without native cross-channel attribution.
Lack of resources to create in-house reporting with data from advertising platforms.
With the challenges out of the way, let's look at how you can keep your tracking as accurate as possible.
7 affiliate marketing tracking methods
First-party cookie tracking
First-party cookie tracking is the golden standard for affiliate tracking on your own domain. Your visitors need to consent to cookie tracking.
Informing your users about your cookie policy is a must in today's world and that's double the trouble when you're advertising in the EU. The EU's GDPR policies are some of the strictest in the world.
Without the user's consent, there is no attribution. No attribution, no commissions.
Cookieless tracking
With the dawn of 3rd party cookie tracking this method is essential in today's privacy-first landscape. A tracking tool that supports cookieless tracking usually works on the basis of modelling certain event data. When the modelling is complete the tracking system will have data points that it uses for increasing accuracy.
Different tracking tools use different tracking methods instead to model these event data. They can use Postback URL tracking instead of cookie tracking.
Consentless Tracking
There is one thing most users are not aware of. If they don't give you tracking consent but they still purchase your affiliate offer, there is a level of tracking involved.
When a non-consented user completes a purchase, it provides valuable information, even when users choose not to consent to tracking. During the checkout process, they implicitly agree to the terms and conditions of the e-commerce store, which is a form of new consent.
Even without a rich event stream of previous user events, the data gathered at the checkout is valuable for attributing conversions. This is especially true for conversions from sources that work with first-party data, such as encrypted/anonymised emails.
Parallel tracking
Parallel tracking loads in the background instead of working through affiliate redirects.
What does it mean?
Traditionally, when you want to get your commissions, a user needs to click on your affiliate link. When they click, the tracking parameter loads and they're redirected to the advertiser's website.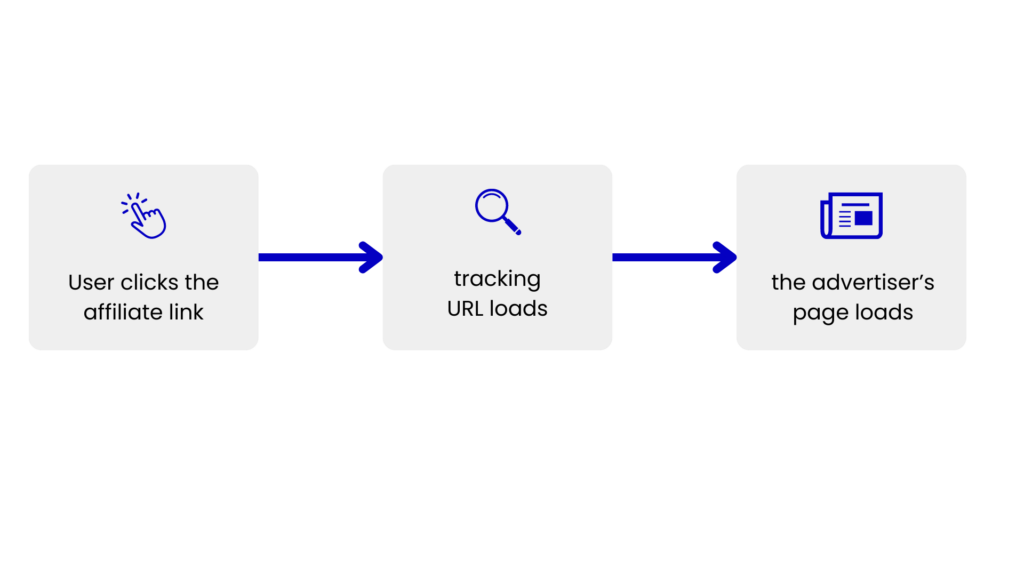 In parallel tracking, the user is immediately redirected to the advertiser's website and the tracking parameter loads in the background.
Parallel tracking is only possible with a compatible setup. If you enable parallel tracking but you don't set it up correctly, the URL won't have any tracking parameter to distinguish the traffic source. The advertiser will then see the traffic as either organic or Google ads traffic.
First party data tracking
It's a near perfect tracking method for partners who work within closed environment platforms. Since it's a closed environment, users consent to your agreements thanks to which you collect first party data.
Closed environment platforms are (e.g.) loyalty programs. The platform can directly track and attribute each user's transactions, enabling precise calculations of loyalty rewards and providing a smooth user experience.
Edge Application Tracking
The tracking software is integrated directly into the hosting environment. The best application of this tracking method is for enterprises that require a high level of data accountability. With this method, you can verify data accuracy, ensure compliance with privacy regulations, and address any potential data discrepancies.
Edge application tracking also provides a solution to ad blockers and anti-tracking tools. By deploying tracking software within the hosting environment, enterprises can bypass ad blockers and maintain accurate tracking even when users installed ad blockers.
It's not the easiest to install though.
Installing edge application tracking is a technical process that requires expertise in managing hosting environments and implementing tracking software. You need to have the necessary technical resources to deploy and maintain the tracking.
Heylink proprietary tracking
Heylink supports all 6 affiliate marketing tracking methods mentioned above, plus you get two more options with our proprietary tracking.
Think of it like a voting system. Each tracking method represents a voter who expresses their preference for each conversion that occurs on your website. Based on these votes, Heylink Intelligent Tracking analyses the data and assigns the conversion to one or multiple sources. The more data available, the more precise the attribution score is.
Whenever a conversion takes place, we use an attribution model based on previous conversions to determine which method produced the most accurate result. This model is then updated with post-conversion data (such as store order data and third-party integrations) to improve accuracy for future attributions.