One of the biggest challenges for affiliate publishers is staying on top of SEO to bring more organic traffic to their affiliate websites. SEO for affiliate marketing requires thorough keyword research to make sure you have a fighting chance for the top of the search results.
We listed and explained the top 3 keyword research methods to help you win that fight:
Traditional keyword research in affiliate SEO
If you've read any type of article on keyword research that ranks on the first page of results you've certainly come across this method.
Looking at the monthly search volume and the level of difficulty to rank for a keyword is the bread and butter of this method. And for keyword research in general, this is more of a fundamental knowledge, whereas the following two keyword research methods go beyond this.
If you're aware of these fundamentals, feel free to jump to the 2nd method, which is called Keyword Golden Ratio.
Volume and Keyword Difficulty
The first step is to define what topics you want to cover on your website – we cover that on our SEO for affiliate marketing blog post. Once you know those topics, it's time to find your primary keyword.
In your keyword research tool, start writing words related to your niche and the topic you want to cover. Focus on the monthly volume and the difficulty level to rank for that keyword.
The goal is to find a keyword that has the highest possible monthly volume with the lowest possible difficulty. General practice is to not go lower than 1000 monthly volume and difficulty not higher than 25. But, of course, the numbers depend on your niche.
Keeping up with our example from the search intent blog, you can see the "home gym" keyword has 1100 monthly volume and its difficulty is 15.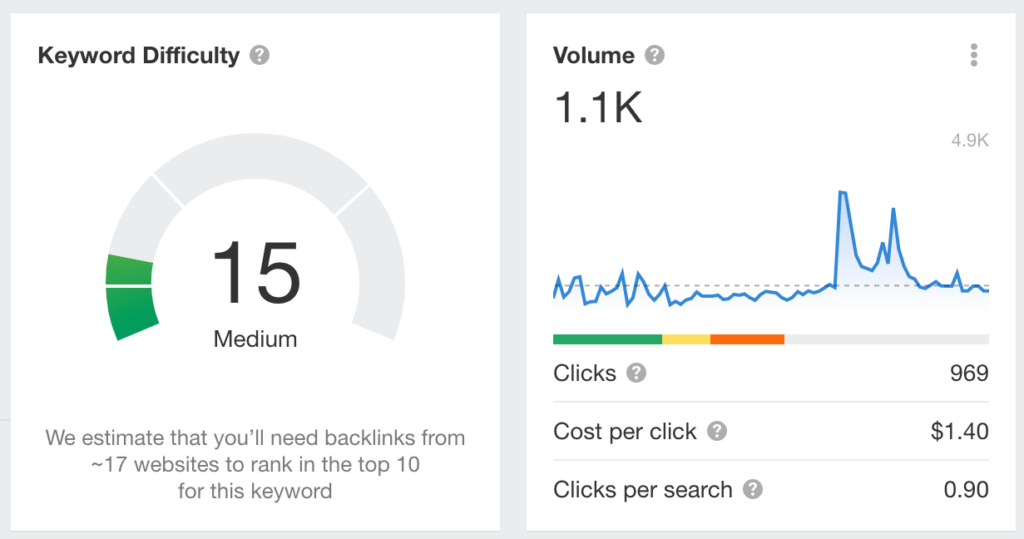 This keyword could help Google's algorithm to categorise the topic of your content. So the algorithm can figure out where you want to build your authority.
Using search queries in affiliate SEO
The keyword in itself doesn't answer questions your audience has. Google puts high importance on writing for people and puts quality content above quantity. You need to write for people which means your content needs to be helpful. Even product review pages got affected by Google's update on 21st Feb.
To make that easier, consider related search queries. You can find those on the 1st page of Google results. Search queries are questions Google considers the most relevant questions your audience has when they include your keyword. Answering one or two queries in your content can help Google recognise your content as relevant.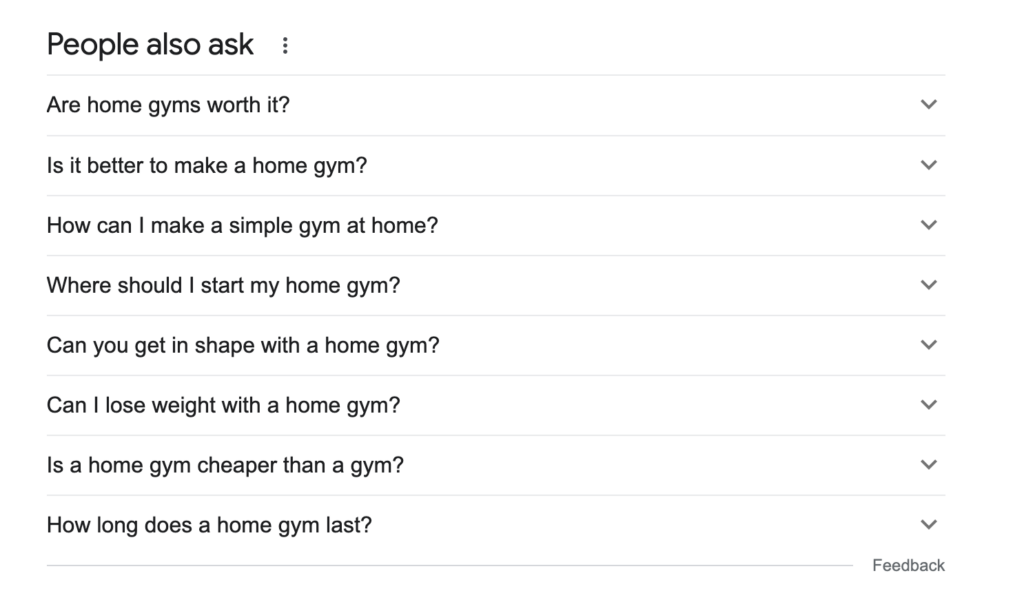 Keyword Golden Ratio (KGR) in affiliate SEO
KGR goes against the traditional thinking of targeting high-volume keywords. Instead, it focuses on underserved keywords, which will allow your page to rank faster on the first page of Google search results.
This keyword research method is great for affiliates who want to build their organic traffic engine fast. By using KGR-compliant keywords you can start ranking quicker, although the volume won't be the highest right from the beginning. That's because the monthly volume you want to target is less than 250. Since a lot of marketers go for keywords with a 1000+ monthly volume, your chances are higher to rank faster for keywords that are below this volume.
Moving even further from the traditional keyword research, you don't need to focus too much on the difficulty levels. What's more important in this method is to look at "allintitle" Google search results.
What is allintitle?
Allintitle is an advanced Google search operator that will give you all the search results that have the keyword in their meta title (also known as title tag).

You can compare the number of results in the picture above (with allintitle) to the results below(without the allintitle tag).

KGR formula:
Number of "allintitle" results / search volume = KGR
What the results mean:
🟢 <0.25 = Go for it (great)
🟡 0.25 – 1.00 = It might work
🔴 >1.00 = Don't (bad)
After a couple of "allintitle" searches, you'll get a message from Google asking if you're a bot. Simply check the box that says you're not a bot – unless you are a bot, wait, are you a bot? – and continue your search.
How to find your KGR keyword
We'll continue with our niche example of selling home gym equipment (you can replicate this process with other niches too).
To generate ideas faster use this template: best [product type] for [application or user type]
If you're not using any keyword research tool you can use Google's autosuggest. It looks like this: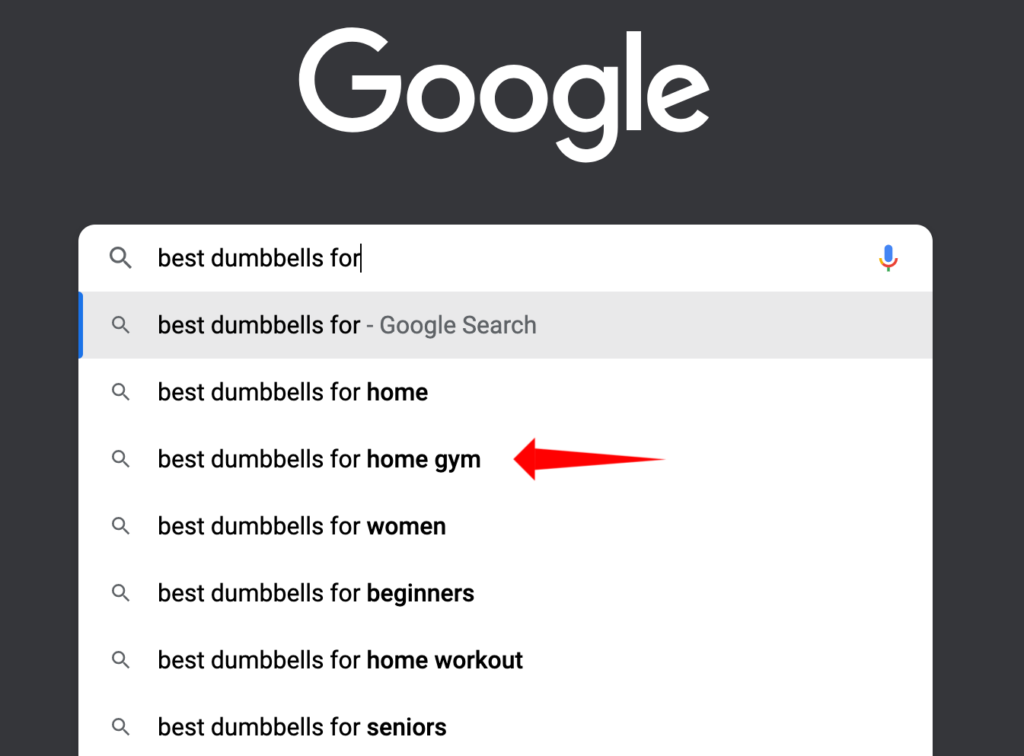 If you want to make the research faster and more accurate, consider buying a keyword tool like Ahrefs, Semrush or Ubbersuggest. In our example, we use Ahrefs but feel free to use any other tool you feel comfortable with.
In Ahrefs, go into Keyword Explorer in the top menu and write your keyword phrase.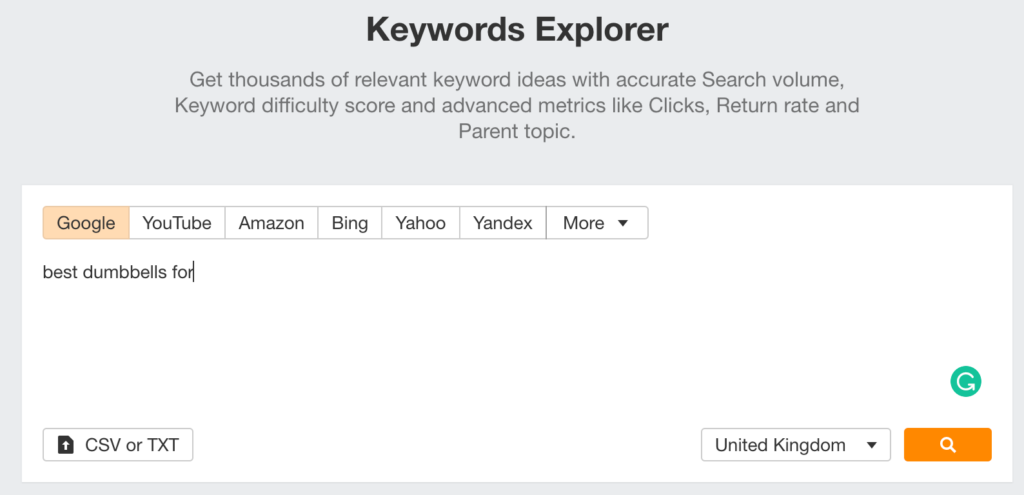 Then go into "Search Suggestions" on the left menu and apply the monthly volume cap of 250.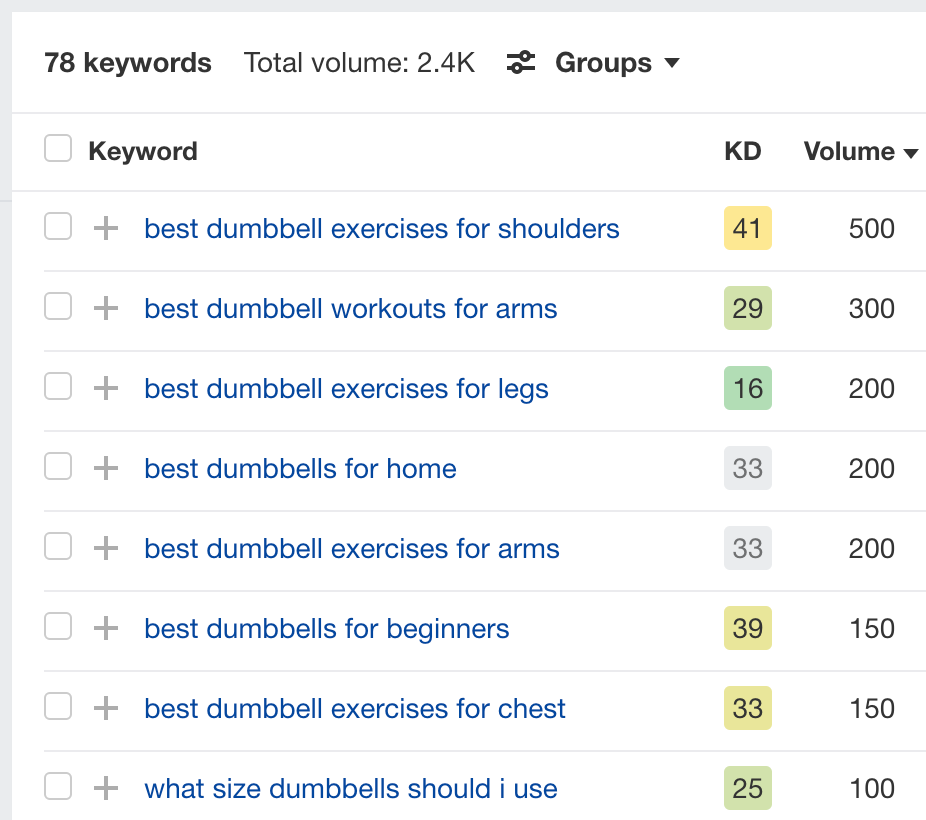 You can also go further and apply a filter on the keyword difficulty and cap your results on 15, 20, 25.
Based on the numbers, the 3rd row from the top "best dumbbell exercises for legs" has a low KD and a monthly volume of 200. Which is a perfect candidate for KGR's target. Now what you need to do is to find the number of allintitle results.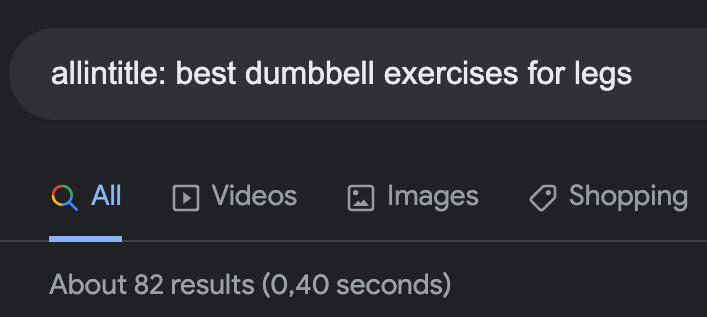 This result means you'll compete with 82 search results to rank for this term. Which is way less daunting than the 1.3 million for the term home gym. Let's apply the KGR formula.
Number of "allintitle" results / search volume = KGR
82 / 200 = 0.41
It's not optimal (<0.25) but it should still be within a range to rank quickly for this phrase.
Let's continue our search for a perfect match. Look at one row lower "best dumbbells for home."

1050 / 200 = 5.25
This ratio value is too high, so let's find a different phrase.
Something tells me the next one is the winner.
🎉 2 / 60 = 0.03
Great! We found an amazing KGR-compliant keyword phrase.
If you want to learn more about KGR you can check out Doug Cunnington's article.
RAP analysis in affiliate SEO
Not many people know about this research method. Here, the Keyword Difficulty doesn't play any role but instead, you want to focus on Relevance, Authority, and Popularity.

The reason why this method doesn't rely on KD is that it's just one variable that accounts only for backlinks. So KD simply tells the backlink profile strength and in a tool like Ahrefs, you'll see an estimation of how many backlinks it takes to rank among the top 10 search results.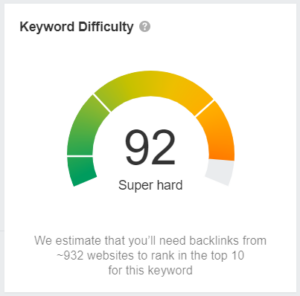 Let's break the RAP variables down so you'll know how to apply them in your affiliate SEO marketing strategy.
Relevance
Relevance in RAP represents how relevant the search results are based on your keyword and the top 10 title tags. Especially with relevance, you need to keep in mind your target audience, because based on that your score on what is relevant and what's not can change.
For the sake of example, our audience will be men who want to set up their first home gym for basic workouts. Nothing fancy. They just want to enjoy working out at home because that's what makes them feel comfortable and go through their goal of losing weight.
So, part of your affiliate marketing strategy is to define:
Their problem: Overweight
Solution: basic workout equipment
Their stage of awareness is solution aware because they already are aware of their problem (overweight) and the solution they're seeking is setting up a home gym.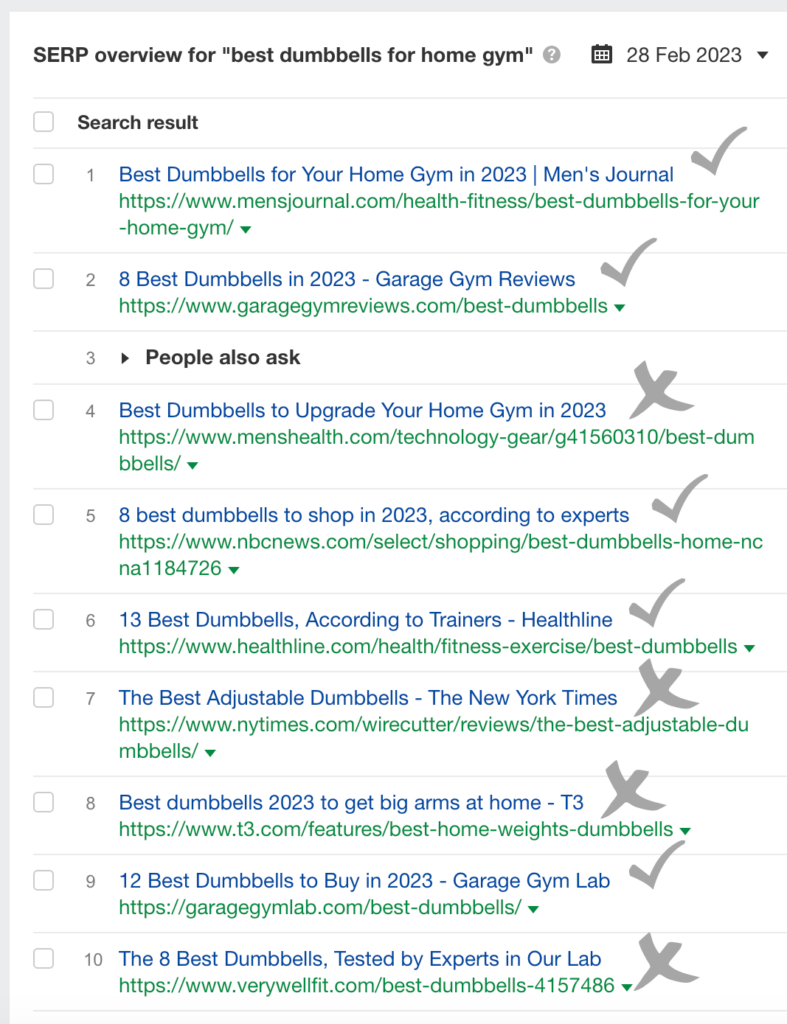 The 5 passing results speak directly to our audience, and the solution they're looking for. Those that are crossed are talking to a different type of audience. A person who already has a home gym (upgrade your home gym) or is more concerned about a fancier solution. Not our guy.
We can give Relevance a score of 3/5.
Authority
Authority refers to domain rating (DR). Keywords tools calculate the DR based on the strength of a domain's backlink profile compared to other domains.
The way you define what's good authority rank and what's bad depends on your niche. In some niches, even a rank of 30 doesn't mean it's bad. In other cases, to make your website competitive you should aim for 50+.
Let's take a look at our example.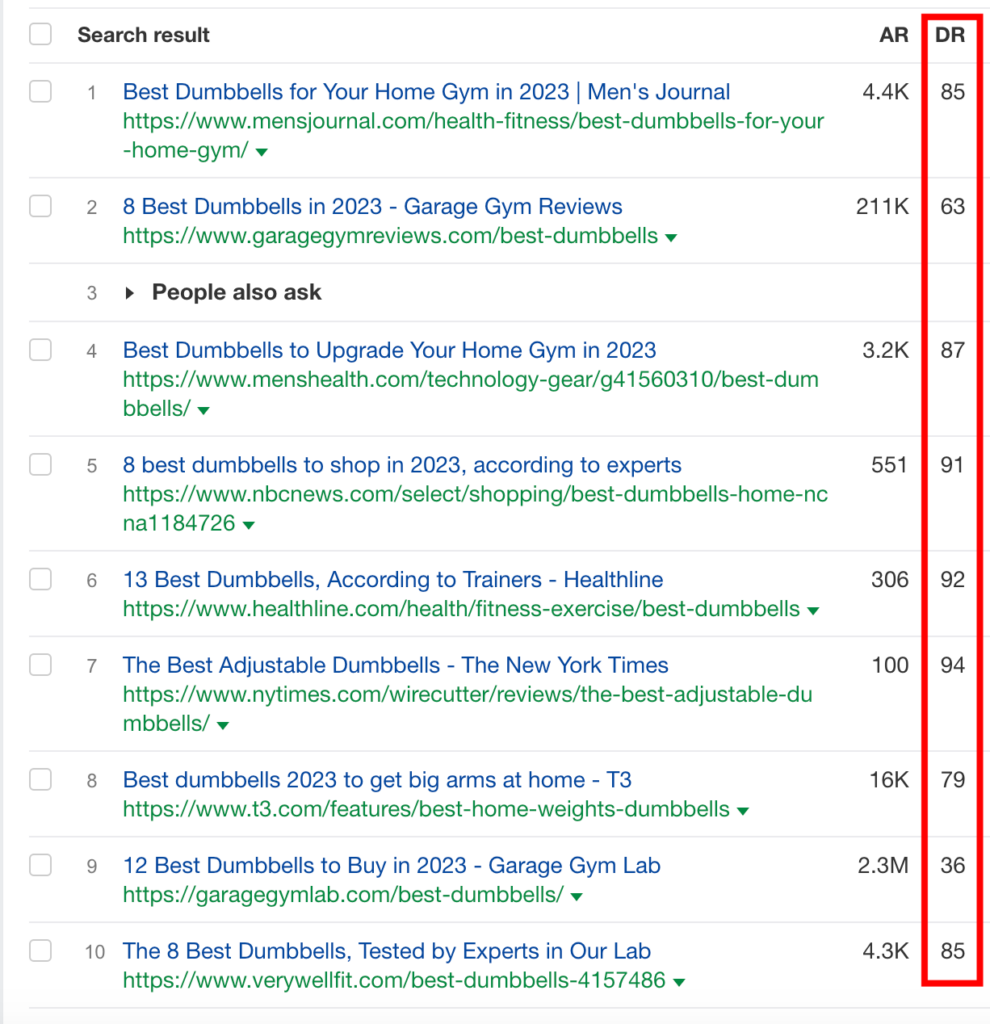 Only one result scored below 50, and two of them scored below 80. The rest is sitting on 85+. This means your DA needs to be relatively high to appear among the top 10 results.
The score for Authority is 5/5 – challenging to compete.
Popularity
The last variable refers to how important backlinks are to rank on the top 10 results.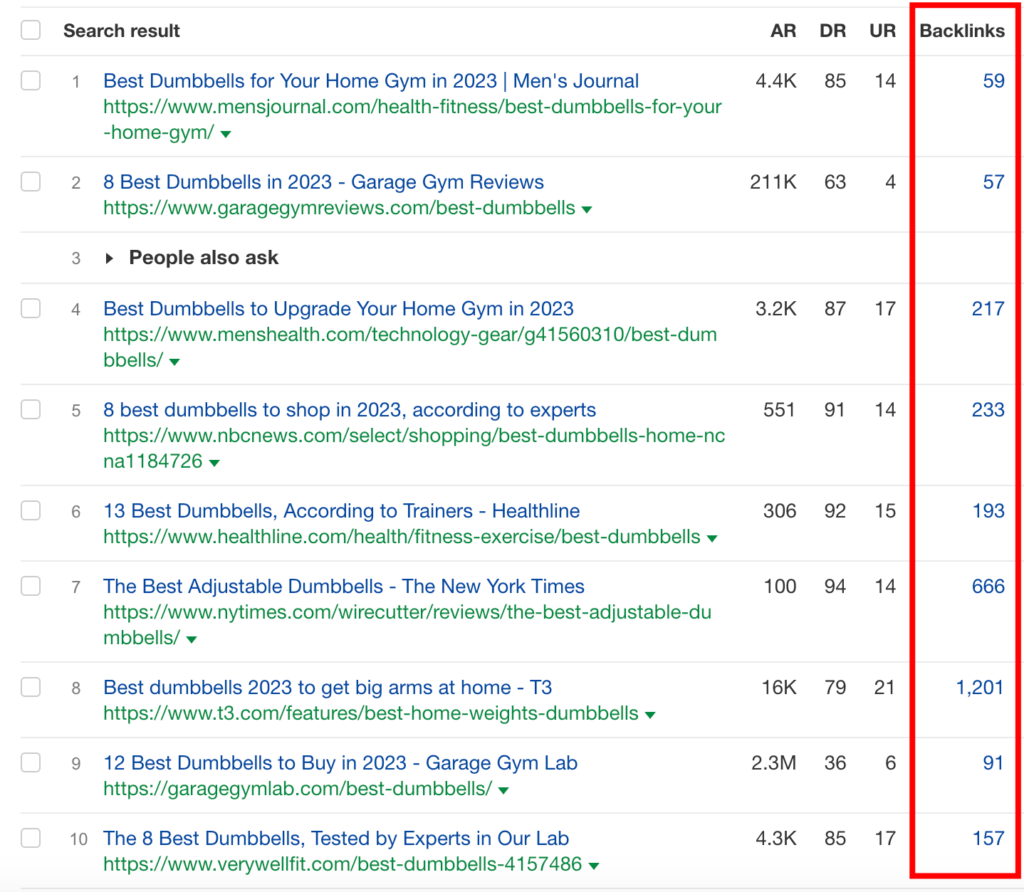 In this example, one of the results has above 1k backlinks, 3 of them have 200+ backlinks, and 2 have 100+. The final 3 have less than 100.
We can score the Popularity 4/5. This means it's quite important to have a certain amount of backlinks to rank among the top 10 results.
Now, let's put all the scores together.

The total score of our keyword phrase "best dumbbells for home gym" is 12/15. The competitiveness is high and it's certain you won't have an easy time ranking on the top 10 results with this key phrase.
Does it mean you shouldn't go for it?
It depends on how you define what the score means. Whether you'd score that rate as competitive or medium competitive is up to you. The important part is to keep the scoring consistent throughout your affiliate marketing SEO strategy.

(Credit for defining this method goes to Jake Ward. Be sure to check his post about the RAP analysis with a different example)
TLDR
3 keyword research methods to boost my affiliate SEO
Traditional method: Focusing on high monthly volume and low keyword difficulty
Keyword Golden Ratio (KGR): Focusing on underserved keywords with a maximum monthly volume of 250. The KGR formula is monthly volume / allintitle search results. The perfect KGR ratio is <0.25.
Relevance, Authority, Popularity (RAP) analysis: Disregards the keyword difficulty completely. Instead, it scores the top 10 Google search results based on 3 variables. The higher the score, the more competitive it is to rank among the top 10 results.