Welcome to the first edition of our monthly update. On the first Thursday of each month, we'll share with you:
Key changes to the platform over the past month (bug fixes, new features, etc)
What's up around Heylink
Are you ready? Here we go!
🐞 Bugs fixed:
Date pickers now allow custom dates starting before 2023
Graph buttons on the 'Overview' dashboard are now mapped to the correct graphs
Campaign history now only shows the campaign in the period where it was active
⭐ New features:
You can now choose the currency you would like to see your statistics in on your Profile page
When using the search function in the reports; the totals are calculated for the displayed results only – pretty cool for quick filtering
When using the 'sorting' in any table, the column is now highlighted to better see what you've sorted by
We now have an Adblock warning message popping up if any of our content is blocked by the user's Adblocker
Super cool new feature – You can now click on a specific conversion on the 'Overview' dashboard and instantly get an overview of the entire journey of that conversion. You are able to see which network and campaign was used, any custom SubId's you've added, ie. Marketing ID's from paid campaigns, etc. The conversion data is real-time, which gives a good understanding of what is trending on your website, or which campaigns are running hot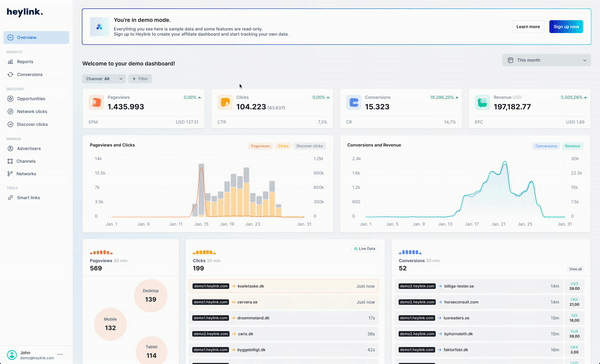 Super cool new feature, II – We've got nothing to hide! Anyone can see a fully implemented Heylink dashboard in action through our demo account now. Wanna check it out? Here it is
🐶 What's up at Heylink:
We said 'hey' to 2 new team members – Mikie, our Head of Customer Success; and Patrik, our Content Manager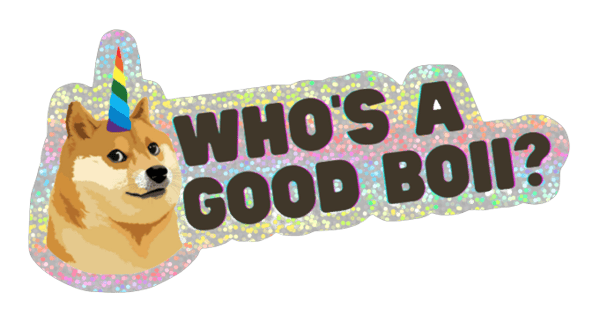 Who's a good boii? We are. We got together to put into words what makes Heylink such a great workplace, and we are happy to share that with you. Why? Because our values are not just something we have on a piece of paper, they are something we are committed to live by amongst ourselves, but also towards you, our users. We call our values the 'Good Boii Mindset Handbook', and here's what's inside that book:


Be a generous expert
Keep it real
Solve for simplicity
Stay hungry
Enjoy the ride
(You can learn more about what each of those mean to us here)

If you have any questions, just reach out – you can find us on LinkedIn, Twitter, Facebook, or just write us at hannah@heylink.com.
Happy tracking!